Enjoy a glass of fine, terroir-based wine while enjoying the pristine beauty of Bayfield, in Huron County when you visit the Cornerfield Wine Co. winery.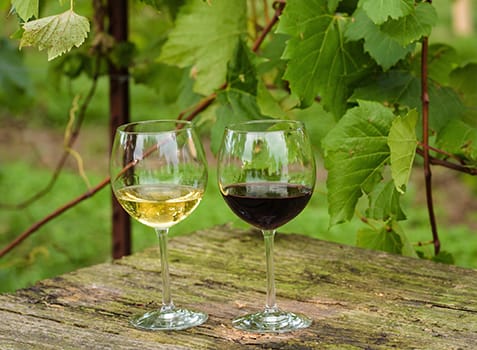 Experience Ontario-Grown Wines
Since we broke ground in 2015, our vineyards have been producing excellent bounties in preparation for our first bottling. After four years of hard work and precise management, Cornerfield Wine Co. wines will be available on site at our winery for the 2019 opening.
Created by our Winemaker Steve Byfield, our wines feature a blend of Huron County-grown grapes, all benefitting from the unique terroir of the area and promising a perfect combination of intensity, complexity and delicacy of flavour to excite the palate and becoming of a fine, Ontario-grown wine.
"With our opening in 2019, there was a sense of excitement as we were eager to share the delicious wine we've grown in Huron County. It's definitely worth the visit!"
Wine Co. Wine Selection
Free Shipping anywhere in Ontario with orders over $100
Free deliveries every Thursday if you spend $35 or more and live within 50 km of the winery.  Please place  your order by 5 pm Wednesday afternoon
Curbside pick up at the winery.  Just call, text  or email us the time/date and we will have it ready to go!
2017
Cabernet Merlot
$24.95
This offering is the result of the harmonious blend of Cabernet Franc and Merlot melding together effortlessly.  Medium bodied, this wine possesses aromas of blackberry, plums, roasted coffee, and spice.  On the palate,red and black currants along with dark cherries and wild raspberries finely capture well- integrated oak leading to a lengthy finish.
2018
The Farmer & Frenchman
SOLD OUT
A unique white blend showcasing the tremendous potential of Huron County.  Tones of citrus, melon, blood oranges and white Asian pears are supported with pleasant soft oak to provide structure and length.  Off-dry this wine possesses a wonderful balance of sweetness and nervy acidity working in tandem leaving a refreshing lingering finish.  Dedicate it in honor of the Frenchman for his love of family and the land.
2018
Pale Red Rose
Very Limited Quantities!
Fruit proudly sourced exclusively from Huron County, this wine is a quite sleeper that will certainly delight those who dream of Rose.  With its delicate coral hue this wine displays fresh aromas of Muskoka cranberries, tart red currants and pink grapefruit.  Slightly off-dry this Rose is a terrific choice to pair with white fish, salads or Mediterranean cuisine.
2018
Chardonnay
Limited Quantities!
Round, bold and leesy best describe this stainless-steel offering.  Fermented cool to promote bright tones of ripe peach, spice apple and mineral culminate to deliver an easy drinking white wine to serve with fresh lake trout, salads or on its own.
2017
Marechal Foch
$19.95
Crimson in color, with violet tones, spice and mocha this offering was made for immediate consumption.  Slightly oaked for 4 months our Marechal Foch displays notes of bitter chocolates, earthy bramble, mulberry and wild currants on the palate.  Finely tuned with is acidity and residual sugar balance there is an elegant tone of upfront jammy fruit that is expansive from start to finish.  Ideal for simple BBQ fares(burgers, grilled meats), pizza or pasta with tomato sauce this wine is surely to fit the bill.
2018
Riesling
$17.95
Fragrant tones of white peach skins, spice pear and wet slate captures the nuances of the warm 2018 vintage in Niagara.  On the palate, grapefruit pith with lime and citrus notes are nicely captured revealing a solid core of dense fruit that is accompanied with crisp acidity counterbalanced with sweetness promoting a lingering finish.
Bad Apple Brewing and Cornerfield Wine Co. Cider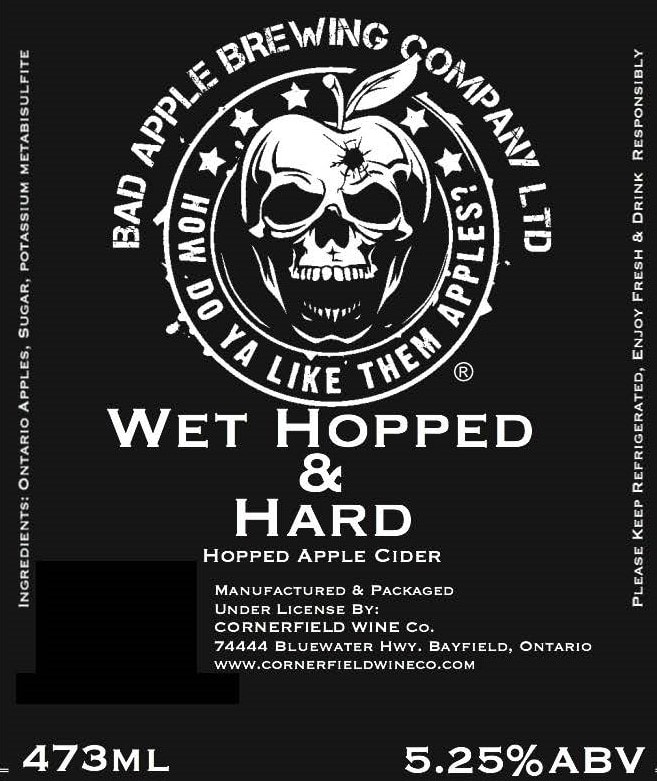 Where To Buy our Wines
5 Main St. N
Bayfield, ON
40035 Blyth Rd.
Blyth, ON
Part II Bistro

10 Courthouse Square

Goderich, ON
72538 Bluewater Hwy.
St. Joseph, ON