Located in Ontario, near the shores of Lake Huron, the Huron County terroir brings spectacular qualities to our wine.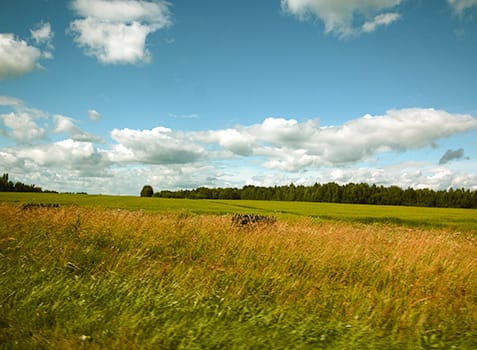 Perfect By Nature
Huron County is naturally blessed with a combination of conditions that are perfect for wine growing. These conditions together create a unique profile for all wine grown in the region. Cornerfield Wine Co. also has the extra advantage of being built on a piece of land that has been used for agriculture for over 175 years. With the extra nutrients provided by generations of farming in the soil, our winery is set to produce a brilliant wine with all the added benefits of the terroir. Visit us sometime to experience the beauty of Huron County, and enjoy the result of winemaking in our part of the world.
"We're very fortunate in Bayfield to be in the perfect environment for terroir-effect wine growing. With the complexity it can bring to a glass, the benefits are endless."
Benefits Of The Huron County Terroir
Natural Irrigation
The Huron County terroir is famous for it's rolling hills and valleys, and natural bodies of water, that create promote a bevy of wildlife, excellent drainage, natural irrigation and defense against damaging winds and harsh, winter conditions.
Cool Climate
Well-known, terroir-based wine growing regions like Germany and Austria have cooler climates that help to bring out a more delicate complexity. Huron County features the same and while this poses some challenges, the benefits are numerous. 
Nutrient-Rich
Established on a swath of land near Lake Huron, created by the recession of glaciers in the last ice age, Huron County consists of clay-loam soil, excellent for drainage and full of nutrients that make it perfect for agriculture and winemaking. 
Complex Flavours
Most high-end wines are noted as such for several reasons, one of which is the complexity of flavours. Cold climates, like Huron County, aid in the development of these complexities, as do the type of grape, the overall terroir effect and our management practices.
Delicate Balance
Alongside complexity, balance in the type of grapes, sugar and acidity levels and natural tannins are all key components of a high-end and flavourful wine. The environment we grow in helps us to manage all aspects of a glass, creating a high-end wine.
High-Quality
With the benefits of a cold climate and added benefits of a terroir-effect present at Cornerfield Wine Co., the overall experience is one of high-quality, wonderful balance and excellent intensity, making it easier to pick out the delicate and complex flavours of our wines.